Keyword research for SEO is one of the most overlooked components of search engine optimization (SEO).
 However, performing keyword research can be an easy way to improve your search rankings, drive more traffic to your site.  
It can even increase your conversion rate if you use the keywords effectively in your copy. 
This post describes how to use keyword research for SEO success as a blogger and offers tips to get you started on finding the right keywords to grow your audience!
Keywords – what are they and why should you prioritize them?
If you're a blogger, you should definitely care about keywords! 
Keywords are basically the words and phrases that people type into search engines when they're looking for something. 
So, if you want your target audience to find your blog posts, you need to use keywords that they're actually searching for. 
Here's how to do keyword research for SEO: 
1) Figure out what types of content you're blogging about: 
It might seem obvious, but it can't hurt to take some time upfront to think about the topics you want on your blog. 
2) Start typing in keywords related to those topics into Google's search bar: 
You can find lists of suggested keywords by going onto Google and typing in different topic ideas, and synonyms or different word variations too.
 3) Take note of which keywords have high search volume: 
You'll be able to see which keywords have higher search volumes by taking a look at Google's suggested searches after you've typed in your first query.
 4) Research which keywords have high monthly search volumes: 
Monthly search volume is really important, so you want to make sure you're using keywords that people are searching for consistently over time.
 5) Understand which keywords have high commercial intent: 
Commercial intent is basically how likely someone is to buy something online after searching for your keyword.
 You should definitely use keywords with high commercial intent because that means it's more likely that those people are closer to conversion in the marketing funnel.
 Hence they have chosen to look for those specific words in their search.
 6) Look for keywords that have low competition: 
After you've done your keyword research, it's time to start thinking about which ones you're going to actually use on your site. 
You can do that by considering both competition and commercial intent. 
You'll want keywords with high search volume and high monthly search volume and also those that have high commercial intent and low competition.

If you compare the two images the phrase keyword research has a search volume of 49,500 with a cost-per-click (CPC) of $5.70 
Where as the phrase keyword research for SEO has a search volume of 3,600 with a CPC of $7.33 and the competition is also less.
 7) Repeat steps 3-6 until you have your list of keywords: 
Now it's time to actually create your keyword list. 
You should repeat steps 3-6 several times so that you end up with at least 15 different keywords related to your topic.
 This is because most search engines recommend that you use between 5 and 10 different keywords in your content.
Where to Find Thousands of Keyword Suggestions for Free
This is a free tool that allows you to see how often certain keywords are searched for on Google. 
Google Trends – You can use this tool to compare the relative popularity (based on data from Google) of different keywords over time.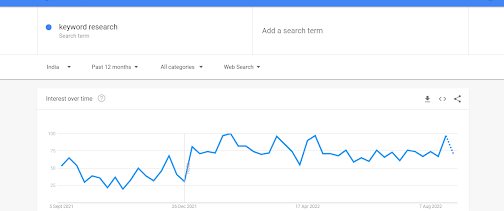 In the above image you can see I have entered the term keyword research in the search bar. 
It gives me a trend for this particular search query and if you notice it is on an upward trend as compared to last year.
However if you notice the last month's trend it shows there is a dip.
Hence the competition is slightly less which works for you as a writer- 
You can write content around this keyword that can rank on page 1 of Google.
The free keyword generator tool of Ahref is good for beginners and blog writers who have just started. 
There is no subscription required to use this. Just enter any word or phrase you want keywords for and select the region you want to find the search volume for and hit the find keywords button.
You will see a report like this:
If you notice you have option of phrases and questions. It shows the latest updated data of the search volume .
As seen from the above image you can also see the questions asked around the term keyword research. 
These can form your long tail keywords. All this data can help you find the keywords that you want to rank for in Google.
Ubersuggest  keyword research for SEO tool– 
Enter any word into this tool and it will show you all related words or phrases, ranked by their popularity with suggested websites in parentheses. 
It is available as a chrome extension and limited to 30 searches per day for free users. 
To avoid completing your quota for the day you have the option of switching off the tool to avoid collecting search data for every query entered in the search bar.
Apart from the above listed,there are many keyword research tools with paid and free versions that can help you generate and research keywords for SEO.
When Should You Choose Long-Tail Keywords
Long-tail keywords are usually 4 or more words long, and they are specific to what you are selling or the niche your blog is in. 
For example, SEO tips for bloggers is a long-tail keyword.
 Long-tail keywords are great because they have less competition and they are more likely to convert into sales.
 Plus, they can help you rank higher in search engines!
Best Practices To Get Found By Your Desired Audience
As a blogger, you want to make sure your desired audience is finding your content.
To do this, you'll need to utilize keyword research in order to find the right keywords that will help your content rank higher in search engine results pages (SERPs).
 Here are some best practices to follow when using keyword research for SEO success: 
– Select one primary and secondary keyword phrase per post. 
Include these phrases within the first paragraph of your blog post and are scattered throughout. Also add the focus keyword once more at the end of your post.
 This ensures the article is not keyword dense in any part and they are evenly distributed.
– Never add more than five targeted keywords per blog post. 
Overdoing it with too many targeted phrases can cause penalties against your site ranking in SERPs if Google thinks you're trying to abuse their system. 
By following these steps and incorporating them into your blogging routine, you should see an increase in traffic over time.
Conclusion:
Keyword research for SEO is an important step in ranking your website on Google search engines. 
It doesn't have to be complicated as there are many tools available that make the job easy. 
All you have to do is enter the term in the search bar of any tool.
You can find the search volume, monthly and yearly trends  for the keyword, CPC for the chosen keyword, alternate suggestions and competition.
 So what are you waiting for, get started right away and get your list of keywords to write.
And in no time find your blogs ranking on Google, driving the much needed traffic to your website.