Choosing the right image for website  can do more than just enhance the aesthetics of your website. 
Your website's images play an important role in your website visitor's experience.  
They can affect how much trust they put in your brand, how appealing your site appears to them, and the possibility they will convert into customers. 
This article will help you choose the right images for your website so that it looks just as good as it functions.
What makes a great image
A great image for your website should be relevant to your business, high quality, and attention-grabbing. 
In addition, it should be properly sized and formatted for your website. 
Choosing the perfect images for your website can help you make a great first impression on visitors.
Tips on shooting photos
When shooting photos for your website, always keep your audience in mind. What will they be interested in?

Make sure the images are high quality and clear. No one is keen to see a blurry or pixelated photo.

Try to use natural light whenever possible. 

Consider hiring a professional photographer if you want top-notch photos. 

Take advantage of free stock photos sites like Unsplash and Pexels if you don't have the budget for a pro photographer.
Stock photo sites
One of the simplest and most effective ways to include visually appealing content in your next project without compromising on quality or aesthetics is to use stock photographs.
 By eliminating what may be a significant expense for contracting out design or bespoke photography, you save up a significant amount of money and time (a win-win for any small business or growing brand).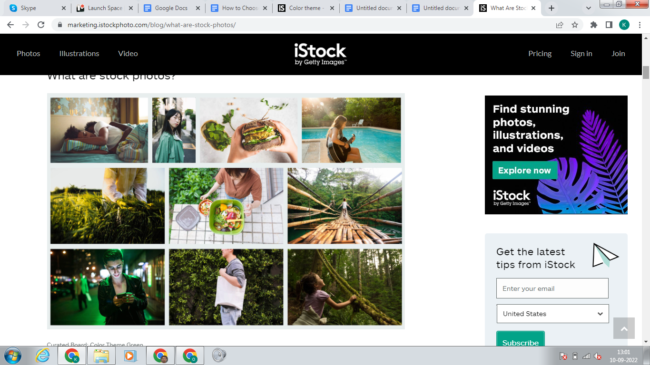 Free stock photo sites to choose images for website
A quick Google search will reveal a ton of free stock photo sites. 
However, be selective with which ones you use. Some sites require attribution, while others have more stringent licensing requirements. 
Do your research to make sure you're using images that are in the public domain or have a Creative Commons license. 
You'll want to know if the photos you choose are freely available, how they can be used and what types of modifications can be made before uploading them.
 Remember: this is YOUR website, so it's up to YOU how many resources and money you want to spend on it! 
If you want high-quality images from major companies like Getty Images or Adobe Stock, they may not be free, but there are also ways to get creative commons images through these companies. 
The most important thing is to figure out what image style would work best for your brand – then decide where to find those styles!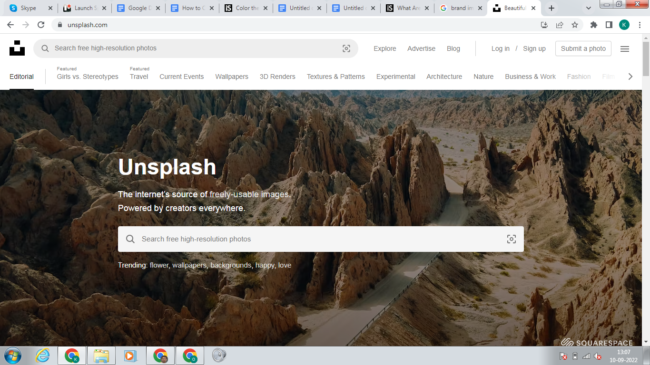 Just enter the keyword in the search bar and find multitude of options.
In addition to Unsplash, there are a few other great sources of free, high-quality photos. 
Pexels has a large selection of photos and videos that you can use for your website. 
Another great option is Pixabay, which offers over 1.6 million royalty-free stock photos, illustrations, and vector graphics. 
Paid stock photo sites
 If you need more specific images, sites like iStockphoto and Shutterstock offer millions of professional photos and illustrations that you can purchase. 
You can search by keyword, color or orientation.
Looking for high-quality, professional photos for your website, you'll likely have to pay for them. 
However, there are a few ways to get around this. You can find free stock photo sites online, or you can take your own photos. 
If you do choose to pay for stock photos, make sure you select a site that offers a variety of images so you can find the perfect one for your needs. 
Think about whether you need abstract images, cartoons, or realistic shots. 
These will differ based on what type of business you run and how serious it is.
 For example, if you sell children's clothing, then cartoon images may be appropriate; if you offer an accounting service, then realistic shots would be better. 
Once you know which type of images work best for your business and niche, search through the different websites until you find a suitable image.
Once you find an image you like, click on it to see all the licensing options. 
You'll typically be able to select from a variety of licenses such as 
Creative Commons CC0 (completely public domain), 
Free (not exclusive),
 Limited Commercial Use, 
Editorial Use Only, 
Non-Commercial Use Only or RF Exclusive Rights (exclusive rights). 
For example, if you're using the photo for a blog post about someone's new product launch and want to share it on social media, then a Limited Commercial Use license would be appropriate. 
On the other hand, if you're using it in an advertisement for your business, then an RF Exclusive Rights license would be better. 
And if you wanted to put it in a PowerPoint presentation, then an Editorial Use Only license might work best. 
After selecting the right license, enter your email address and payment information to complete the transaction. 
You will receive a download link via email with instructions on how to download the photo or illustration.
For. e.g if you look for images in google you can click on the tools tab and you get the following options: creative commons and commercial other licenses. 
It is a safe bet to look for images under the creative commons category for your next project. But remember to always credit the image and mention the source.
Tips for editing photos to select the image for your website:
First, consider what type of images you want on your website. 

Do you want professional photos? Or would personal photos be more appropriate? 

Once you've decided on the style of images you want, start collecting them. 

Use stock photos as a last resort—try to find original images that fit your brand. 

Finally, edit your photos to make sure they're high quality and fit well with the rest of your website's design. You can do this by using an apps like Photoshop or Canva.

Have fun with it! Don't feel obligated to use all these tips in order to produce good results, but just remember: a little effort goes a long way. 
Conclusion
In conclusion, when choosing images for your website, consider the following: 
what kind of message you want to communicate, 
what feeling you want to evoke, and 
how well the image fits with your branding. 
Use high-quality images that are relevant and engaging, and make sure to credit the photographer or source.
 With a little bit of careful planning, you can choose website images that will help your business succeed.